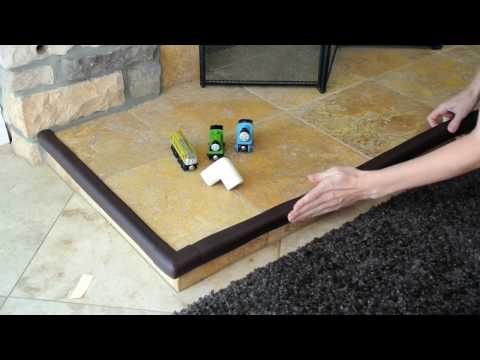 PUREST
The Good Stuff uses the safest and purest raw material available and was the first brand to make foam safety bumpers without the use of toxic flame-retardant chemicals (SCCPs). This product contains no BPA, no phthalates, no heavy metals, no latex, no SCCPs. Inherently flame-resistant; passed flammability tests under US regulations.
DENSEST
Density is more important than thickness™ when it comes to softening impact. The Good Stuff cushions measure Shore A Durometer of 20-30, much more dense than industry standard of 12-15. Soft, high-density premium cushions absorb impact and protect your loved one from the hard, sharp corners and edges in your home, school, daycare, preschool, hospital, assisted living facility, senior housing, work area, office, museum, restaurant, hotel and more.
LONGEST
Jumbo Pack™ covers 20.4 feet (245 inches) of surface area: 18 feet (5.5 meters) edge cushion + 8 corner cushions -- making this the most surface area covered by any product anywhere. Fits all standard size tables (round table up to 69" diameter, square table up to 56" square and rectangle table up to 36" x 78"). L-Shaped safety bumpers. Industrial strength; commercial length.
SECURE ADHESION
Includes authentic easy-to-peel 3M double-sided tape (36 feet of tape for the 18 ft. edge cushion and 32 pieces of tape for the 8 corner cushions). See photos at left for proper tape alignment. Coffee Brown color goes well with oak, walnut, mahogany, cherry, or dark brown-colored furniture, such as tables, chairs, chests, shelves, stairs and fireplaces/hearths.
SHIPPING
All our products ship within 3-5 business days inside the United States. Orders are being fulfilled by our warehouses located in the US and are thus very reliable. Please find more details on shipping here.